The world would gather in Russia next summer for the 2018 World Cup. Preparations are in top gear, teams have qualified and all obstacles have given way. Thirty two teams would feature in the event.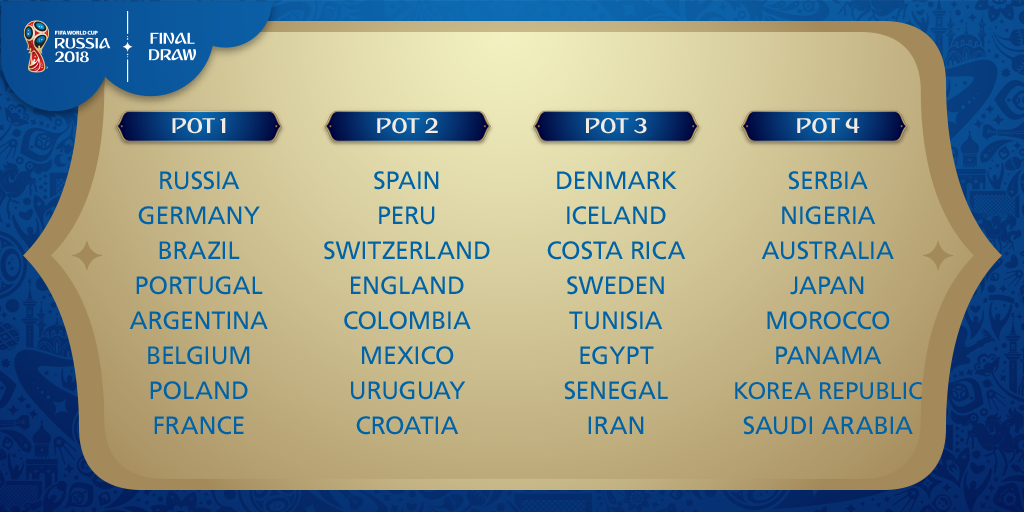 The hosts Russia, and group winners France, Germany, England, Belgium, Iceland, Poland, Portugal, Serbia, and Spain are representing the European contingent. Playoff winners Croatia, Denmark, Switzerland and Sweden would also feature.

Nigeria, Morrocco, Egypt, Senegal and Tunisia would represent Africa while Argentina, Brazil, Peru, Uruguay, Colombia would represent South America. North and Central America and the Carribbean would be represented by Panama, Mexico and Costa Rica. Qualifiers from Asia include Saudi Arabia, South Korea, Australia, Iran, and Japan.
The draw is slated for Friday December 1, 2017 at the Kremlin Palace concert hall in Moscow. The October 2017 FIFA world rankings would be employed in seeding the teams into groups. Eight teams in each of the four pots would be drawn into groups. No two nations from the same confederation would be in the same group, except Europe. And only two European sides can be in a group.
Pot 1: Russia, Germany, Brazil, Portugal, Argentina, Belgium, Poland and France.
Pot 2: Spain, Peru, Switzerland, England, Colombia, Mexico, Uruguay, Croatia
Pot 3: Denmark, Iceland, Costa Rica, Sweden, Tunisia, Egypt, Senegal, Iran
Pot 4: Serbia, Nigeria, Australia, Japan, Morocco, Panama, South Korea, Saudi Arabia
Germany are heavy favourites going into the tournament. The world champs have not lost a World Cup finals or qualifying games since the semi-final loss to Spain in 2010. They won their ten games in the qualifiers, scoring 43 times and conceding just four times. Joachim Low is hoping to be the first manager to supervise back to back World Cup victories since Brazil in 1958 and 1962.
Brazil and France would likely pose the major threats to Germany's aims in Russia.